Children at Risk
By Iris Lifshitz Klieger – Yedioth Ahronoth (23.10.18)
Translated by Yonatan Sredni
When singer Gali Atari first arrived at the Hadassim boarding school (CHW Hadassim Youth Village), she was still called Avigayil. A short-haired girl, barely ten years old, with big eyes, she spent six years of her life at the village.
"My mother was widowed at a very young age - 38. I was a four-and-a-half-year-old girl then," she says. "In order to support us, my mother had to work from morning to evening, she did not have many options and she chose the best option for her daughters, to send them to a boarding school. My sister Shosh and I were fortunate enough to be educated at the Hadassim boarding school, which at the time was considered a boarding school for wealthy kids and we benefitted from that."
How was your absorption there?
"The difference between us and the children of the wealthier families created a very large economic gap, but living in the boarding school made me and my sister tougher in preparation for real life."
Have you ever thought of sending your daughter to study in a boarding school?
"My daughter is a graduate of a new high school in Tel Aviv. She grew up in another era, in a different family structure," Atari smiles. "It's not easy for a child to grow up outside the home she grew up in until the fourth grade, and only see her mother once every three weeks, for a weekend. Not every child has to go through that, but when you have no choice, a quality boarding school is an excellent solution. You experience crises along with pleasant experiences and learn to grow with them, to get strong and develop. We got in touch with nature there and experienced new food, different from the Shabbat kubeh and the hawaij soup that we ate at our mother's house. It was nice to discover there was such a thing as roast and pasta rice on Friday night."
Gali Atari was not the only one who found an opening for rescue and source of a new life in a boarding school. There is a long list of children and youth who have been educated in boarding schools and have become leaders in Israeli society: politicians, senior military personnel and artists. These include: MK Shelly Yachimovich, former chief of staff and defense minister Shaul Mofaz, TV presenter Eden Harel, the singing duo Guy & Yahel, TV host Tzufit Grant, comedian Shmuel Vilozny and singer Shlomo Gronich.
This month, Hadassim hosted a nostalgic meeting which many graduates of all WIZO's youth villages in Israel attended. The evening was also held in order to announce the establishment of a new voluntary WIZO Graudate Association that will work for the community at large. "We must continue what we started here," they say.
Shaul Mofaz, 70, who immigrated to Israel from Iran with his family at the age of 9, arrived at the WIZO agricultural school in Nahalal at the age of 13.
"My family immigrated to Israel from Tehran in 1957, straight to Eilat," he relates. "Absorption in Eilat in the 1950s was difficult and the economic situation in the house was difficult as well. My father saw education as the central issue for our future, with an emphasis on being Israeli, so the integration between agriculture, the valley and the boarding school in Nahalal was a good solution."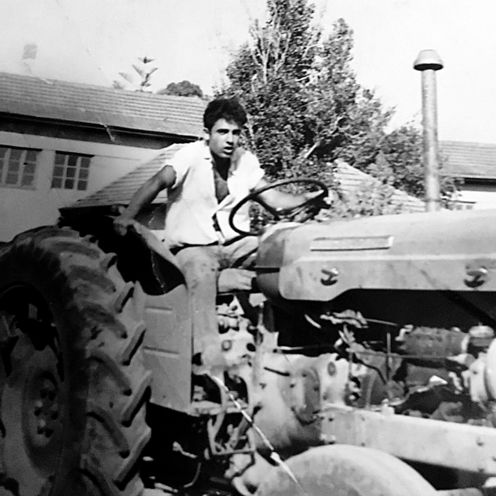 Shaul Mofaz at WIZO Nahalal (photo credit: Yedioth Aharonoth)
What were the main things you absorbed there?
"The really impactful experience at the boarding school was the combination of studies and agricultural work - to get up in the morning in the wintertime at 5 AM for milking the cows in the barn, then at eight o'clock to start the school day. It was a challenge. From a young age we learned what responsibility means, what true friendship is and how to overcome difficulties. It was very difficult. The geographic distance from home was particularly difficult. It meant coming home once every three months, but that was also what taught me how to overcome difficulties and toughen up."
Over the years, there have been quite a few negative stigmas associated with boarding schools. What is the reason?
"I'm not an expert on stigmas, but I can say with certainty is that at WIZO Nahalal I was molded as an Israeli, and that means a lot to me. It is a school for life – second only to my parents' home."
In Place of Parental Hugs
MK Shelly Yachimovich has good memories of the Hadassim Youth Village.
"I arrived at Hadassim in the tenth grade after I was kicked out of high school in Ra'anana at the end of 9th grade because I broke into the building and hung protest posters against the director," she says. In general, Hadassim was a fun place with a warm embrace. There was of course a variety of counselors and teachers, many of them with a lot of kindness, love and deep educational values. Living in the boarding school with other children who became my friends gave me good tools and a strong base for dealing with life afterwards. Despite the fact that children from stable homes also came to the boarding school, and not always because of problems, a child who comes to a boarding school is a child in crisis, not to mention risk. Therefore, additional investment, financial and educational, in boarding schools is mandatory and necessary."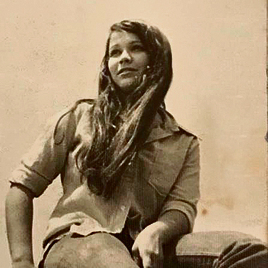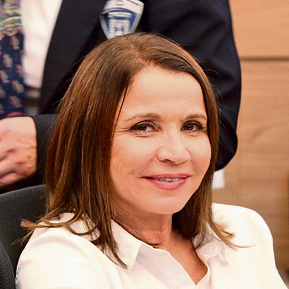 At left: Shelly Yachimovich at Hadassim (photo courtesy of Yedioth Ahronoth), at right: MK Shelly Yachimovich today (Photo credit: Amit Shabi)
Actress Gila Almagor will never forget the day she first arrived at the Hadassim boarding school. She was then an orphaned child from her father, who had been killed before she was born, and the daughter of a mentally frail mother, and the youth village was her real home, her lifeblood.
"I came to Hadassim, a 14-year-old girl, with a long braid in her hair. The circumstances in the complex and complicated house where I grew up led me there because of lack of choice," she says. "Most of the children who were with me at the boarding school were Holocaust survivors. Suddenly my whole life took on new proportions., I said to myself, 'How dare I think that I have it hard in this world, it was much harder for them. They underwent much more suffering than I ever did.' My year and a half in Hadassim were the 18 most significant months of my life. The boarding school was for me a home for everything, a tikkun (correction, a repair) for my life up to that point."
And what did you absorb at Hadassim?
"I was exposed to a different life, to another world. It was there where I discovered what true friendship is, what love for the land of Israel is and what commitment to the environment is. I believe that a child does not go to boarding school by choice, only if they send him there. A child needs the parents' embrace and the warm words, but what can you do when that does not exist in every family? I know that a negative image was attached to the boarding schools, but to me this is an unfair generalization. It depends on the boarding school and who its educators are. At Hadassim, the door of the educators was always open to every child, at any hour of the day and night. If we had a scary dream, we ran into the teacher's room or to the counselor to get a hug or talk to them. But there were also boarding schools where things were different. In my case, I feel very fortunate to have been there."
The Only Rescue Option
Sophia Elyashiv, who later became media personality and actress Tzufit Grant, was educated in the Mikveh Yisrael, Ayanot and Hadassim boarding schools. When she got there, she was 10 and a half years old.
"I was sent to boarding school because of my parents' divorce. My childhood was one of loneliness and sexual abuse," she says. "I lived such a complex life that everyone reached the conclusion that the only solution was for me to be in a boarding school. A lot of children would come to boarding schools from families that were completely destroyed."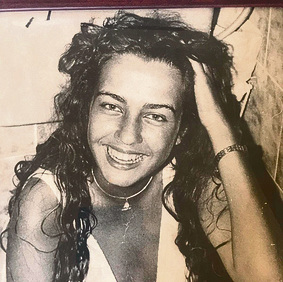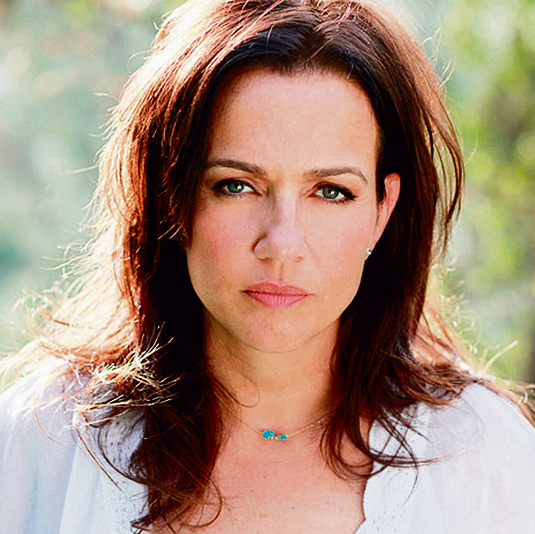 Tzufit Grant in her youth village days and as a TV host today (photo credits: Yedioth Aharonoth, PR)
What should be improved today in boarding schools?
"I would invest in the best teachers and counselors. Children in boarding schools are separated from their families and build a new family. It's important to invest both in the social elements and in values ​​ - that's the future."
The family of TV host Eden Harel, now a mother of six, is today a symbol of stable familyhood, but Harel's memories of her childhood are different.
"I arrived at the Hadassim boarding school at the age of 11," she says. "My parents divorced when I was three years old, and my mother could not support us. The problem of the students who lived at the boarding school (as opposed to those who lived at home and commuted to school each day) has always existed: You felt a bit like a kind of a screwed-up child, like one who was less wanted. From a social standpoint it also has a lot of advantages. My mother would run from job to job until ten at night just to support us, and at the boarding school they took good care of us.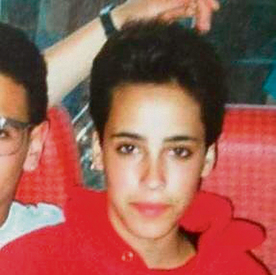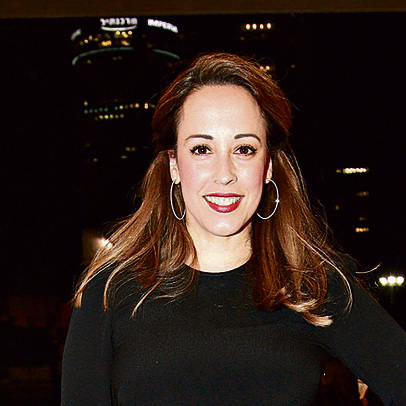 Eden Harel (at left at Hadassim, at right today - photos courtesy of: Eden Harel, Anat Mosberg)
Until I got to boarding school, I did not even know what after-school clubs and activities were. Those who come to work at the boarding school are warm, attentive people who came there out of a mission and not just to make a living. Personally, I do not advocate sending children to boarding schools despite my beautiful memories there. When you come from a functioning and good home, where parents live in harmony I don't believe there is a need for it. Children have to grow up with their parents at home."
The music duo Guy & Yahel (Guy Mentesh and Yahel Doron) are also graduates of Hadassim. Yahel Doron arrived there at the age of 12.
"My older brother Yehonatan came to the boarding school following Aviv Gefen's remarks at a 1994 Arad performance," he says. "It was a difficult time at our home, and Aviv said that if there was anyone for whom it was not good for them to be at home then they should go to a boarding school or a youth village, and that's exactly what my brother did. I arrived there a couple of years after him."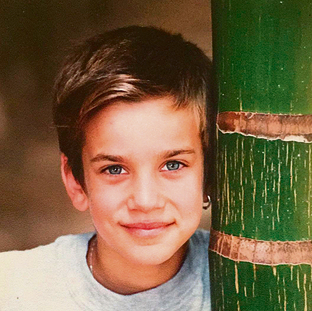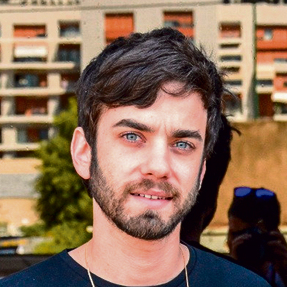 Musician Guy Mentesh in his youth village days and now (photo credit: Aviv Lusky)
How did your family and friends react to this decision?
"I didn't deal with that at the time. My older brother was there and it seemed to me a wonderful and sane place to live in. Anyone who does not know boarding schools and children in boarding schools may recoil and imagine some dark orphanage, but people who know and are exposed to it see the beauty and strength of these places. You are there living with all your friends day and night, which is another, deeper level of friendship. The boarding school encourages and helps with the talents and desires of each student. We had a wonderful man running Hadassim at the time named Zvika Levy - a genius educator who only today I understand how much he meant and did - that enabled us to fly with our desires and dreams."
Guy Mentsch, his musical partner, agrees with every word.
"At the boarding school, I found refuge in music, and I also got to know my first love," he says. "The biggest advantage is that the boarding school where I was educated was a warm home for me."
WIZO currently operates more than 800 institutions and services throughout the country in the fields of education and welfare, including a network of youth villages and vocational schools in which more than 5,500 youth are educated, some of which live in boarding schools and come from families at risk and in distress.
"Thousands of young people from all walks of life are educated and grow in WIZO's youth villages and boarding schools - they live together, learn about themselves and their dreams, and receive all the tools to succeed in their studies and develop in any direction they want," says Prof. Rivka Lazovsky, Chairperson of World WIZO.
"Our thousands of graduates, like the wonderful graduates profiled in this article, are leading today in all areas of life and constitute a social force that can change, contribute and act to improve society. That is why we have now established a Graduate Association in WIZO, whose purpose is to contribute to the community. I call upon all the tens of thousands of our graduates to join the organization."
---
To read the original article (in Hebrew) from Yedioth Ahronoth, click the link:
https://www.yediot.co.il/articles/0,7340,L-5377286,00.html?fbclid=IwAR02Bq9ZNHMwAUguI9sYf1tMVgDvsmSOWPIj246W1pbY6h-tmd2DWhaY3yM
---
Lead photo, clockwise from top - Then and Now: TV hosts Tzofit Grant and Eden Harel (both of CHW Hadassim), former IDF Chief of General Staff Shaul Mofaz (WIZO Nahalal), musician Guy Mentesh and MK Shelly Yachimovich (both from CHW Hadassim)
(Photo Credit: Yedioth Aharonoth - Amit Shabi, Anat Mossberg, Aviv Lusky, Tomarico)